You made it.  For months you've been worried about getting those coursework portfolios off to the moderator but now, thanks to ridiculous amounts of hard work, you can finally enjoy a resource that teachers rarely experience – time.  Admittedly, not a lot of it…  Gain time isn't what it used to be but it's still better than the nightmare of convincing teenagers that they need to answer every question on the candidate record form.
We know how hard you've worked, so we spent some of our time putting together a list of the things that you can do with your time.
1.  Tweet #musicCAdone

We've set our Tweetdeck accounts to beep at us whenever someone uses this hashtag, so you can be assured that a member of the Musical Futures team will be there to congratulate you for getting through the hell of coursework season.  Was it your first year teaching GCSE?  Just changed boards?  400 pupils in your Year 11 cohort?  Did a meteorite hit your classroom?  Revel in your triumph by telling us all about it.
2.  Talk about what you'd do differently

You probably need to get a few things off your chest, so why not sign up to the newest online sharing space for music teachers?  Supported by Music Mark, the Peer to Peer network is a great place to take part in discussions about all things music education.  Get the ball rolling by adding a post to the 'Introduce Yourself' thread.
3.  Make some music

You've spent so long helping young people become musicians that you've probably neglected your own musicianship in recent months.  Re-connect with musician-you and remember why you love this subject so much.
4.  Film a revolutionary video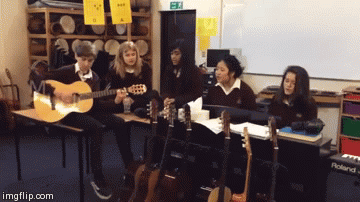 No, this isn't a call to overthrow David Cameron's new government.  We've been gathering videos from schools and professional musicians all showing that they support our Music Learning Revolution.  Grab a camera, video your pupils making some music and have them tell us how proud they are to be a part of the revolution.  We'll shout about it on our Facebook and Twitter accounts.
5.  Follow the revolution

Speaking of Twitter, follow our Music Learning Revolution on Twitter.  We'll keep you up to date with all the latest news about our one day conference and CPD event.
6.  Catch up with #mufuchat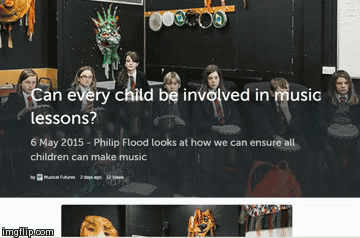 We've had some great MufuChats recently.  Recent topics have included student voice, catalogues of recordings, primary music and widening access.  Check out the archive on Storify and get involved with the post-chat on Peer to Peer.
7.  Sign up pupils for our Beatbox Choir
What if you could get your pupils working with world-class musicians as part of a massed vocal orchestra performing in front of hundreds of music teachers?  Check out the details on the Music Learning Revolution site, where you can sign up to make this happen for your pupils.
8.  Like us on Facebook

Twitter not your thing but want to keep up to date with the MLR news?  Get sneak peaks from the workshops, quotes from presenters and even the occasional competition just by liking our Facebook page for the Music Learning Revolution.
9.  Get your tickets for MLR

Having been part of the revolution, make sure that you can meet everyone else who's been involved.  Book your tickets here so that you can join us for our fantastic one-day festival/conference/CPD event in London this October.  Speaking of the location…
10.  Grab a drink

…did we mention that we're holding it in a brewery?  Go on…  You've just handed in your coursework.